The funding call for Jisc Transformations stipulates that each project is:
"…required to create a brief audio and/or video description of their project; what it has achieved and the main findings from their work by the Business Change Manager/Project Sponsor." (Jisc Grant Funding 11/11 and 19/11)
There are no restrictions regarding the final output however it would help us greatly if you could produce a video that is suitable for upload to YouTube, a slidecast via SlideShare, or an audio file that is suitable for upload to SoundCloud. We'll be using these services to collate and manage project outputs; if you have your own institutional YouTube/SlideShare/SoundCloud channel please feel free to store it there however we will require access to the code allowing us to share the files through other web pages. If you choose to host the artefact yourself you are required to maintain it for three years and "assist Jisc in archiving it subsequently".
We would recommend that projects keep their audio/video descriptions quite short, between two and four minutes should be enough to describe your main findings whilst keeping the audience engaged. If you're not very confident in creating video/audio files we'd strongly suggest starting with audio. The important thing is to get your story straight.
Narrative/Story
The narrative/story is the most important aspect of your audio/video description. Ideally, this would be where the advice around evidencing change might have helped you. We want to know about:
the problems and issues you've overcome;
your achievements;
who has been affected by the changes delivered by your project;
any evidence supporting your story e.g. a more resilient service or greater satisfaction ratings; and
any Jisc resources that might have helped would be nice!
Whatever you do, please don't produce anything by simply stepping through the bullet points listed above. Tell us your story, from start to end. Bring in some drama (the snow caused the main server room to melt), tell us of that light-bulb moment and speak from your heart.
Script it out, no matter how good you are at presenting or speaking publicly script what you're about to say. Talk it through a few times and time it. Anything getting over four minutes you're likely to have lost the interest of your audience. Having the script there allows you to speak confidently and ensures you don't miss anything out. One of the most frustrating things about working with audio and video is having to do multiple takes.
Audio Guidance
Firstly we would recommend reading through the guidance provided by Jisc Digital Media regarding audio. Once you have your narrative try recording your voice. Use whatever equipment you have around, a mobile phone can be good enough. Just be sure to find a quiet room in which you can record. The steps below outline how I produced the following embedded audio file.
I had the script – taken from this post
I recorded myself on my mobile phone (iPhone 4S) early one morning in the office, it took 5 takes
I emailed the file to myself and saved it to a central location (with a good file name)
I uploaded it to SoundCloud and that's all there was to it; approx. 20 minutes in total including writing the script
Ideally, I would have spent longer on this. I would have rehearsed the script a few more times so that I spoke it through more naturally. I would have also tried to find a quieter room, there's quite a large hum from the air conditioning in our office. Finally, I would have tried to work on my breathing and remove the whistles from my S's.
Video Guidance
It gets a bit more complicated here. Again, we'd strongly recommend reading Jisc Digital Media's advice on moving images. The more traditional project video tends to be a talking head which is fine. This will require video equipment, a tripod, microphones, lighting, possibly a crew (experienced people) and time. The example below required a crew of three (interviewer, videographer, researcher) and took half a day to capture the video content. The editing process was managed by professional company that tendered for the work.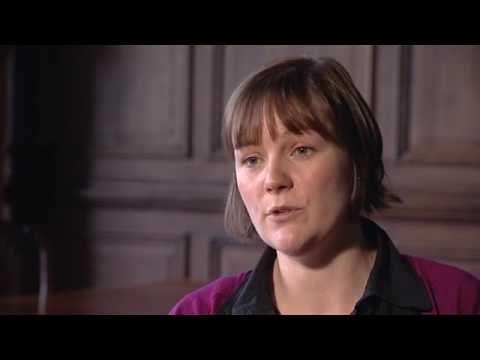 If you have a marketing department it's worth asking them for support. They can often provide the service required to produce similar quality videos. More recently, Jisc have been exploring the idea of Digital Storytelling. The technique typically adopted is to combine meaningful images with your audio output as shown in the example below.
For more detailed information on how to easily create a digital story we recommend you read this post: 'Applying Digital Storytelling to Projects'.
Submission
To submit your audio/video description please email it to jiscinfonet@jiscadvance.ac.uk using the subject line 'Jisc Transformations: Audio/Video Submission'.
Further guidance
Please feel free to comment on this post or contact the programme team if you have any other questions or if anything in this post is unclear. If you have any technical queries Jisc Digital Media offer a free help desk and can offer expert advice in this area.
Netskills are also running a workshop to help support projects in meeting the requirements outlined within this post. A registration form is available for the workshop taking place Thursday 7 March in Newcastle and they hope to finalise details of a London workshop soon. Remember to select the payment method 'voucher with code' and use the code 'TRANS'.
First of all Happy New Year to you all.
Kicking off the new year it's time to get back to our projects and reflect on how they're going. The transformations programme has taken a different approach to reporting from many traditional Jisc programmes.  The combined use of blogs and the wiki space have been deliberately employed to allow for a more reflective approach to projects recording their experiences.  As a result we're not asking for specific reports at specific times (though wording in the funding letter about a 6 month report has led to some confusion!) but projects are encouraged to blog regularly and make sufficient time to build up their case studies throughout the life of the project.
Most of the projects are well underway by now but understandably some case studies are further developed than others.  As the New Year begins all the projects should be endeavouring to populate the case study templates set up for them on the wiki.  Hopefully regular blogging means that projects already have much already recorded to draw on when completing their case studies.
For those who are struggling it's probably worth looking at a couple of case studies from other projects which are further along. The Royal Conservatoire of Scotland's Organisational Capability for BCE and Keele's The Virtual Student Advisory Model (SAM) are both good examples as a starting point.
Also, don't forget to make use of your colleagues working on other projects and also your critical friends to offer advice and guidance.
To get you started think about what you have learned from carrying out your project?  What has gone well for you and what not so well?  Are there any things you would do differently and what unexpected barriers and bonuses did you encounter?
Andy Stewart will deliver two online sessions, expected to be Thursday 21st and 28th February, to support anyone still having difficulties. He'll circulate a registration form via the list soon. Andy will be happy to advise on writing your case studies and also answer any technical questions about using the wiki.
In further news, another way to make the most of peer support is to attend the upcoming CETIS conference taking place in Birmingham on the 12th and 13th of March.  You can find more details and register here.
Now that everyone's back for the autumn term all the projects are in full swing.  As part of the reporting for the projects each team needs to keep a blog of their progress and any significant events or activities that are taking place.
For some blogging is a part of everyday life and they take to it with great enthusiasm. For others it's a little more alien. It can be it can be difficult to decide what to include and what to leave out and disconcerting to know that what you write is so public.
Steve Boneham from Netskills has produced this useful Why JISC Projects Should Blog guide to blogging for projects which will hopefully give some ideas for those unsure how to take the first step
Another useful resource is this set of slides from Brian Kelly which accompanied his workshop for the JISC managing data programme launch event in December of last year – Blogging Practices to Support Project Work
Also don't underestimate the value of simply reading the blogs from some of your Transformations Programme colleagues working on other projects for ideas of what to include and the tone to take.  By reading a few you'll soon see that they vary in detail and formality and there's no 'one size fits all' approach.  You can access a full list of the projects and link to their blogs from each of the strand pages within the Transformations page on the JISC website.
The main thing to remember is that the more you blog throughout your project the more information you'll have to hand when it comes to writing up your case studies and final reports and the easier it will be to recollect and reflect on the project as a whole.
For those who are still lacking confidence Netskills have two Blogging Workshops scheduled in October which still have places left. They tend to run these workshops at least once a month but are also happy to run onsite or online by request so don't hesitate to contact them; you can email enquiries@netskills.ac.uk, call 0191 222 5000 or use the Netskills enquiry form. Steve Boneham would be happy to discuss any requirements you have.
Happy blogging!
Dave White is a Critical Friend /  Action Learning Set Facilitator on the JISC Transformations Programme. This approach is being used in various programmes but is still relatively new, as part of continually evaluating and reflecting on our own practice I interviewed Dave about the role and how he sees it.
Dave what's your role and how do you set it in relation to Transformations Programme?
I'm a Critical Friend. That doesn't mean I'm going to be disparaging about your choice of shoes or your sudden inexplicable decision take- up smoking, it's more about supporting projects.  As you can probably guess I'm supporting projects in the JISC Transformations strand. They are all helping their institutions integrate technology to improve the way they operate as businesses. I think of it as working more elegantly with technology.
Part of that role is to facilitate Action Learning sets, how do you feel about that?
Well, you could be forgiven for thinking that it sounds a little tree-hugging/bean-baggy. That's certainly what I thought when I read-up on the process which deliberately veers away from problem solving and instead concentrates on giving individuals space to reflect on their work. But it's worked really well as a support tool so far.
Action Learning Sets work well face to face, but we asked you to run them online, does it translate?
I could understand how this process might work in a face-to-face scenario but was suspicious about its validity when run in a Blackboard Collaborate room. After three ALS session I'm pleased to report that the format does translate into the 'virtual' very nicely. It's a classic case of people needing to get-to-know one another and build a modicum of trust before the conversation flows in an 'honest' manner. I'm not implying that the first two sessions were dishonest; it's more to do with people moving out of project PR mode and talking about the challenges of trying to drive forward complex plan in complex environments.
It sounds as if the 3rd ALS was a key turning point, do you want to expand?
During the 3rd ALS people were sharing the frustrations of trying to keep a footing in institutions which are rapidly reorganising in the face of massive changes in the sector. They also spoke about the suspicion that many have of technical projects which aim to rationalise administrative processes which have historically been run in a relatively ad-hoc or idiosyncratic manner. These are not problems that can be solved; they are simply part of the reality of implementing change in any large organisation.  As such, 'problem-solving' would be an erroneous approach, especially as everyone involved comes from institutions of differing character so the specifics vary. The value in the ALS is not in directly finding solutions but in having a space in which it becomes clear that everyone is negotiating similar overarching challenges and that it's not all about being clever with technology.
Final thoughts?
It might sound schmaltzy but it's always motivating to discover that the apparent Kafkaesque nature of your institution is mirrored elsewhere and that you are not alone in your struggles to make things work in a rational manner. Oh and if you are taking part in an online Action Learning Set  and you are trying to build trust online hold-out for at least three sessions, it's well worth the wait.
Thanks Dave.
The Transformations programme is intended to support institutions in achieving strategic change, making use of existing JISC and other resources and drawing upon peer and professional support and practice groups.
The logic model for the evaluation is therefore assessing how effectively this is achieved at all levels. The evaluation assesses the measurable change within institutions, focusing on how the JISC funding has supported/ enabled this change, through use of JISC resources, critical friend expertise and peer support.
Key Principles
Self-evaluation – embedding the evaluation discipline and practice at project level, synthesis level, across critical friends and within the peer networks.
Measurement of change – establishing the applicable baseline or maturity level, determining the indicators/metrics (means of measurement, this should also include ROI – Return On Investment), defining key evaluation tasks e.g. data gathering process
Determining attribution – ensuring (at all levels) that the impact of the JISC intervention can be extracted from the wider project evaluation, and hence provide attributable indicators and evidence.
Projects should now be:
Establishing baseline /maturity level
Defining applicable metrics/indicators (evidence)
Thinking about identifying areas attributable to JISC intervention
Gathering and logging applicable indicators (evidence)
The second round of the JISC Transformations Call is now live.
The objective of the Transformations Programme is to help institutions move towards organisational change through the application of existing JISC and other resources in order to:
Enhance their student experience
Improve the efficiency of their business and become agile in a climate of change
Enhance their organisational capability for business and community engagement 
Improve their environmental performance
Improve their environmental performance is an additional element to this Programme, further details are available.
£1 million is available for this Programme in the 2011/12 Academic Year to fund projects at £15,000 each.  This is the second call this AY which provides two further opportunities to submit bids for 12-15 month projects as detailed below:
12 noon UK time on 22 February 2012 – to start 30 April 2012
12 noon UK time on 16 April 2012 – to start 11 June 2012
Eligibility
Proposals may be submitted by HE institutions funded via HEFCE, SFC, HEFCW and DEL Northern Ireland.  FE institutions in England, Scotland, Wales and Northern Ireland are not eligible to bid for this call as JISC intends to provide an opportunity for FE colleges across the UK to bid for similar activity in the early part of 2012.
With regard to bids from Scottish HE institutions, SFC has applied a significant budget cut to JISC in 2011-12 AY.  Following consultation with Scottish institutions, SFC has requested that the impact of this budget cut falls on the number of innovation projects JISC is able to fund at Scottish institutions, rather than to cut or increase charges for national services, such as JANET, JISC Collections and JISC Advance.  Whilst Scottish HE institutions therefore remain eligible to bid for project funding in response to this call, depending on the quality of the submissions, JISC may need to limit the number of projects awarded to Scottish HE institutions.
Projects have completed their information forms and one of the pieces of data we collected was how the projects would tag itself. This will be used elsewhere in the programme but for now we've created three word clouds below as a way of quickly visualizing the information.
The Start-up meeting went ahead on schedule, thank you to all the participants for their patience with what for some of us is a relatively new medium in this context.
The recording is now available, and as discussed during the session we are correcting some of the errors on the slides and will make them also available on the wiki. A separate message will be sent out once the wiki is ready.
The Transformations Programme Start-up is an online meeting. It will start at 10:30 on Tuesday 22nd November and finish by 13:00. If your project has been funded it is important that you attend this meeting where we will be sharing important information about the programme objectives, how you will be supported and reporting processes.
To make sure that the PC you are using is compatible with the online conferencing system please visit the support site
If you have any questions please post them in the comments field and we will respond asap.
There have been several enquires asking what the best way to get buy in to a small scale project is. The Building Capacity had some success with this area and a new resource was published last week at ALT-C. The resource will be updated with new materials as they become available, until then it may be a useful starting point for Transformations Projects